Annual Softener Inspection Offer
Do your part to cut salt use and chloride protection.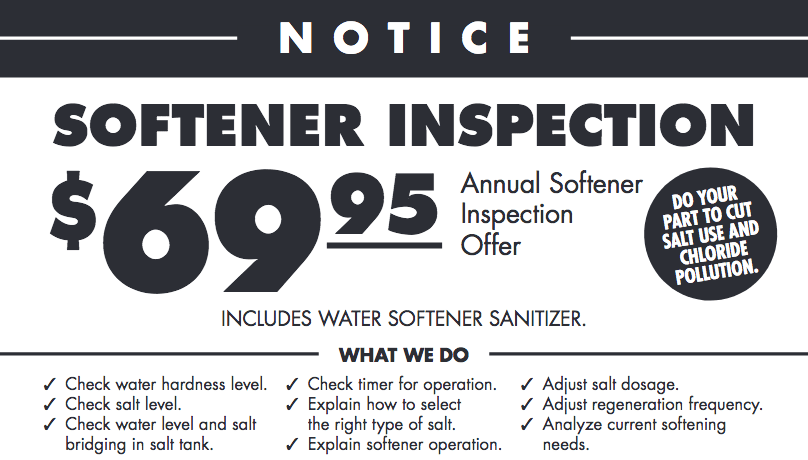 According to our records, your water softener is due for service. We recommend units be checked for performance every 12 months. Our goal is to keep your water softener operating at peak efficiency. Plus, you will receive a free water softener sanitizer.
What We Do:
Check water hardness level.
Check salt level.
Check water level and salt bridging in salt tank.
Check timer for operation.
Explain how to select the right type of salt.
Explain softener operation.
Adjust salt dosage.
Adjust regeneration frequency.
Analyze current softening needs.
Get a softener inspection, including a free water softener sanitizer, for just $69.95!
Limited time offer. Dealer participation may vary. Contaminants may not be in your water. Not valid with other offers. ©2022 Culligan International Company.
Learn more about how you can have better water.
Latest
Blog Posts
Get a jump start on your new year's water resolutions! Schedule your free water test from your local Culligan Water
Arsenic in drinking water can be dangerous to our health, but there are several ways to protect your home's water
Please send our thanks to all involved with testing, fixing, replacing and servicing our softener. Appreciate the time and service you send our way. The replacement tank has fixed the problem we were having.

Bonnie And Joe S.
- Culligan Customer